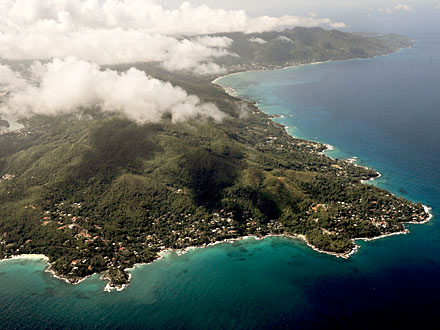 Secluded, Serene and simply tantalizing, the islands of Seychelles have been recognized time after time as one of the most breathtaking honeymoon destinations. With its quiet breathtaking ambience where the crystal clear waters gently sweeps into the beautiful white sanded shores, the setting of these islands is nothing short of perfect.
With 115 islands making up Seychelles you could get lost in its mesmerising beauty and find yourself secluded in your own private world, where no one can find you, when you most certainly don't want to be found. The ultimate privacy is what makes Seychelles ever so romantic. It is the destination for honeymooners and opens up a new side of love and passion that is fuelled by the breathtaking scenery surrounding. Seychelles offers an array of packages to suit your specific tastes and desires. If you are the more adventurous couple eager to indulge in one of the many water spots available in Seychelles try staying at the larger resorts of Mahe. For those of you wanting the typical ambience of quiet romance then it is better to choose the several hideaways, smaller islands and the famous hidden coves of La Digue and Praslin. Since Seychelles gets a plethora of honeymooners year after year it now offers interesting packages with an array of complimentary benefits such as Spa treatment, chocolates, complimentary Champaign's and free nights only adding to the element of surprise within the islands of Seychelles. Additionally, Seychelles consist of a number of 'honeymoon specialists' who will help you plan your perfect honeymoon in the island.
Seychelles is famous for its good, resorts and hotels which has a myriad of state of the art facilities. A good hotel is of vital importance for a good honeymoon. The best
hotel in Seychelles
is by far the Raffles Praslin Seychelles. It is scenic, luxurious and romantic in more ways than you can imagine. The staffs at Raffles is exceptionally friendly and go out of their way in giving you that perfect private dinner by the beach or go one notch further in giving you that romantic breakfast in bed. All in all this
Seychelles hotel
ensures you have the most perfect honeymoon you could ever dream of.