For years the name Maldives has been synonymous to romance. Honeymooners have visited this island more than any other type of tourist and for many, the Maldivian island has helped nourish the first seedlings of love, marriage and partnership. Everything about this picture perfect island whispers the soft aura of love. The swaying palms, the sparkling crystal sands and the silence only interrupted by the gushing of the waves; all in all, this island boasts a magical setting perfect for a romantic getaway.
It is not just the endless sonnets of beauty that makes this island a romance hub. Its popularity has been recognized and many world famous resorts specialized in sparking the deepest of desires have been set up by the Maldivian shores. These only amplify the romantic settings by providing exotic suites, special romantic candle lit dinners by the beach, breakfast in bed with the view of the breathtaking island from your large bedroom windows; tantalizing spa treatment, activities and so much more. With these well equipped resorts at your side the experience of romance is amplified to great heights. The resorts have also been famously known for catering to the exchange of vows; people actually travel thousands of miles for this backdrop for it is a backdrop like no other.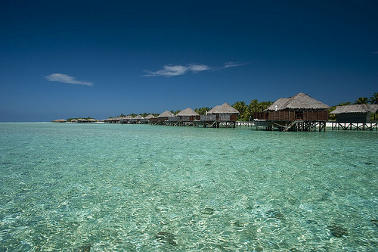 In addition to the luxury, the comforts and the settings, you can indulge in an array of activities that work well for a romantic getaway. Island hopping is popular to start off with. Since the Maldives consists of over a 1000 tiny islands, you can explore these emeralds in the ocean by indulging in a cruise and stopping by at your favourite islands. Some of them are fairly inhabited but most are isolated, giving you a chance to own the island for a few minutes; just you, your partner, and blissful nature; it doesn't get better than that.
For the most exotic romantic experience in the Maldives, stay at the Anantara Kihavah Maldives Villas. These Maldives resorts are the best there is in the island. The standards are impeccable and every effort is taken to ensure details are met. The rooms are out of this world and so are the many long and rejuvenating spa treatments. Sparkle up the romance in the finest of all Maldives Spa resorts.